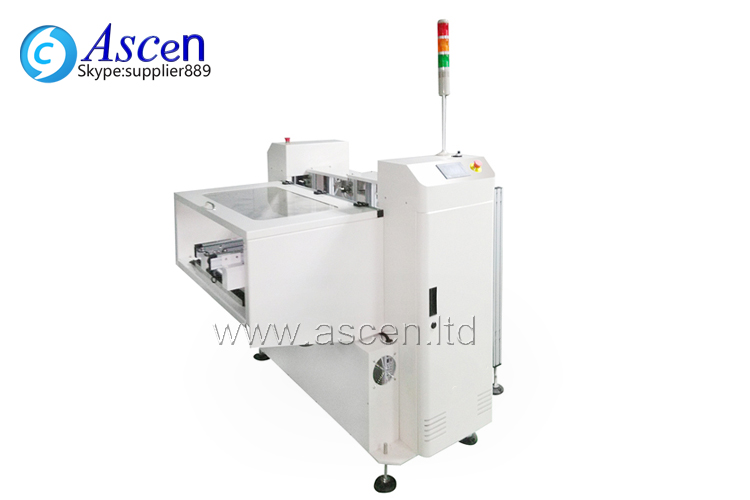 1) This PCB magazine unloader mainly use for separate the NG PCB on the SMT assembly line

2)The PCB NG/OK magazine unloader is connected to the back of AOI/SPI and has horizontal movement and go-through functions.

3)When the OK and NG PCB board after being tested by AOI/SPI machine can be separated and sent to the PCB magazine rack, so that the PCB can be protected better and achieve the intelligent processing.
* Omron /Mitsubishi PLC intelligent control system with LED touch screen control, easy to operate.
* Swift and smooth retraction/extension of conveyor (frequency inverter controller).
* Magazine NG OK PCB unloader has the following features: sound-light alarm when fault occurs, automatic fault diagnosis.
* Connecting AOI or ICT/SPI allow distinguish good PCBs from NG PCBs by signal.
* Good and defective PCBs can be stored separated automatically with PCB magazine rack.
* The upper and lower air clamps ensure the location of the material box accurately
* The top safety caps can be opened for machine hardware maintenance and ensure the highest security level
* With ESD belt for PCB belt conveyor of PCB NG OK magazine rack unloader.
* With stable width adjustment device (manual screw control or width automatic adjustment selectable ).
PLease go this link

SMT NG PCB magazine unloader

to learn more about the PCB NG magazine unloader machine how to operate on your SMT assembly line
Manufacturer: ASCEN technology

Standard: CE