PCB conformal coating machine is necessary onto PCB assembly
What is the advantage of using conformal coating?
PCB conformal coating and electronic potting and encapsulation are two processes used for protecting printed circuit boards, but there are a few differences to consider before determining which printed circuit coating is best for your specific application.
PCB Conformal Coating: used to protect PCB assemblies from moisture, dust, corrosion, and contamination. The process creates a thin, protective layer that is non-conductive and applied directly to the printed circuit board. click here learn more about the PCB conformal coating equipment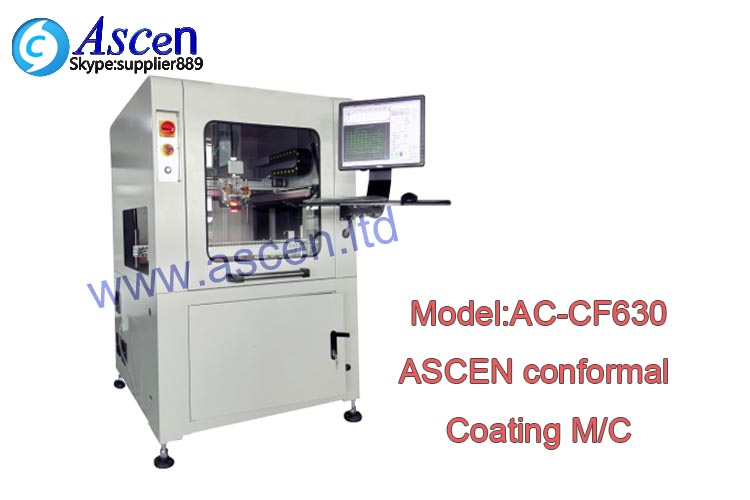 Potting and Encapsulation: also provides a protective coating. However, the method involves placing the printed circuit board in a case or shell, then pouring a liquid compound into the case to fully encase the PCB. Both the case/shell and the cured compound become part of the finished assembly.
Choosing Between Conformal Coating and Potting and Encapsulation
Potting/encasing is a conventional method used for high-speed and high-volume production lines for applications involving circuit boards that may be subject to rough impact or mechanical abrasion. Because of its thick coating, potting can make inspection more difficult and is not suitable for applications where PCB thickness is a concern.
Conformal coating by PCB conformal coating machine, this PCB conformal coating solution that is preferable for applications where there are thickness or weight restrictions.conformal coating is a high-performance film that is visible in UV light for convenient inspection while yielding excellent chemical,electrical and physical properties. This type of circuit board coating also makes it easier to inspect and rework PCBs if needed.
Build a completely selective conformal coating production line to protect printed circuit boards, components and flex circuitry from damage.
Use

PCB conformal coating machine

that is the most efficient way of coating a PCB.Choose the selective conformal coating machine allows the user to 'select' which areas of the board needs to be coated, the required thickness for the coating and allow the machine to do the hard work for you. Robots don't get tired, don't usually have bad days and are happy to do exactly the same thing time after time, leading to improved process reproducibilities.
ASCEN technology provide unique conformal coating solution for all of the different coating material technologies,this include selective coating,brush coating, aerosol coating , atomised spray coating. The precision and coating services of our conformal coating machine and case-specific adaptability are second to none.Therefore,we can identify the best conformal coating process for you without compromise.
Our engineering, production, quality control and customer service teams will work with you to create the best solution for your project. We deliver the most in-depth

engineering services

available for our customers, including guidance for product/conformal coating compatibility in the design and development stages.
Learn more combined solution about

PCB conformal coating processes

(click here) or contact us for assistance determining which circuit board coating process would work best for your application.
Why Choose ASCEN engineering services for your PCB conformal coating equipment
ASCEN solution offers adaptable,case-by-case variations to guarantee your conformal coating is the ideal match for your specific needs, from first articles to large production quantities.One of the most critical considerations for PCB conformal coating is ensuring the coating is compatible with your design goals. Our PCB conformal coating machine must meet your assemblies'requirements and be the most efficient solution for your project.
Most of time,simply coating your sensitive assemblies is not enough. Our engineering services don't other factory.It is critical that a conformal coating be:
1.Compatible will all components on the PCA or PCB being coated
2.Applied to a clean and properly prepared surface
3.Appropriate for the environment to which it will be exposed
4.Reliable and durable to extend product life
5.Cost-effective, re-workable protection
The three major components of the coating process are: The substrate,

the fluid materials used for conformal coating

and the coating machine itself. All three of the above must be considered to avoid potential problems in the process. Other points to consider are the applicator coating height, Coating speed to avoid splashing/ missing bits and cycle time.
It is also important to pre-plan which areas of the board require coating, which areas do not, and which areas don't matter. By allowing a 'don't care' area between coated and uncoated sections you can avoid potential problems such as capillary action.


According to the type of coating material, coating thickness, coating accuracy, coating speed to choose the right

conformal coating valve

for your selective PCB conformal coating machine.


(when inquiry us,Please sent us your PCB panel picture and mark the coating area,and let us know which fluid materials used for coating )



Learn more combined solution about

Robotic
conformal coating spray machine
(click here) or contact us for assistance determining which circuit board coating process would work best for your application.


Please click here to learn more

PCB conformal coating equipment

.

Overall, the choice of coating process depends upon what you are looking to achieve, the budget that you have available and the type of material that you select.Just remember, how you apply the material is in many cases AS important as the material you have selected in determining the reliability of your product.

Contact us for additional information regarding PCB conformal coating machine from your products. We offer the finest, lowest impact service in the industry, and our team of experts will work with you to create the ideal process for your printed circuit board application. Or request a quote for an in-depth price analysis today.